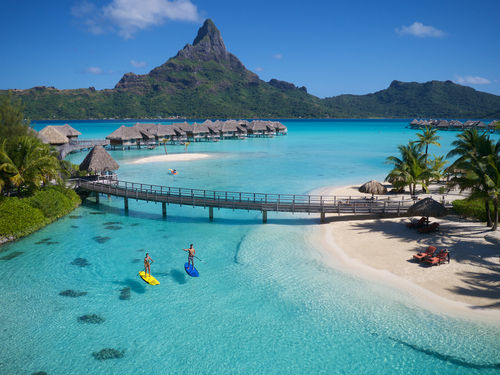 In the wake of the Into The Nights promotion, there are a number of "Free Nights" out there. We each got two free nights from the Into The Nights promo, and each have a free night from the IHG credit card annual perk.
One of the nicest InterContinental hotels in the world is the IC Bora Bora Thalasso. What's particularly incredible for points collectors is that all the rooms are overwater bungalows. Unlike all the other points hotels in French Polynesia, this means that your basic award room is still an overwater bungalow. How awesome is that? Plus, these rooms consistently go for $1,000 a night. So without points, my chances of staying at this hotel are very low.
The problem is that award availability is extremely hard to find because award rooms and basic rooms go so quickly. But I'll propose two ways that you could find award availability.
1) Book really far out (the lesser option)
Basically, be the first person to book the room. 11.5 months out (?) they seem to release award nights.
The problem with this is that you're having to really stay on top of checking. If you want 6 nights straight, then you have to be the first to book the room.
The big problem here is simply booking that far out. Besides planning, free nights tend to expire after a year. You could hold the room with points and then when your free night shows up, cancel and swap. But it's not an easy process.
2) Book two weeks out (the better option)
The two approaches are quite extreme but I actually find this approach very reasonable for a couple of reasons. But first let me explain how it works.
First, you need to understand how the cancelation policy works. Reward nights and best flexible rates are different for each hotel, but in the case of the IC Bora Bora, you have to cancel at least 6 days before arrival (you'll see the cancelation deadline when booking). When you cancel a points reservation, the points or free nights go back into your account immediately, and if it's a cancelable cash rate that you're canceling, the card was never charged in the first place, so you'll see no refund.
What this means, is that your comrades who scooped up award availability earlier and can't use it, cancel when the trip approaches and they know they aren't going. Although the same for non-award tickets. People can book cancelable cash nights speculatively and then cancel, and that could still open up basic rooms to potentially use points for.
Now this isn't a formula that implies checking a week out will find award space. Not at all. But I can guarantee you that a lot of people are canceling more than a week out.
What I've noticed is that the month of the stay, there is a lot of award availability. Actually I was watching for the last month or so and at the beginning of November, there was plenty of availability throughout November. Same in the beginning of December. Although right now I noticed that a lot of it is gone during Christmas and New Year week… which I can understand. But otherwise, a couple weeks out consistently has award availability.
How you should execute this strategy?
Book the other IC Bora Bora
There are two InterContinental hotels in Bora Bora and they both have the same cancelation deadline. What you can do now is book the InterContinental Le Moana with the same free nights or the same points price. Then when you see availability pop up, you can cancel the Le Moana and book the IC Thalasso.
The reason the Le Moana has way more award availability is because points users prefer the Thalasso hotel. The Thalasso books into overwater bungalow, and the Le Moana basic rooms are on land. Plus the Thalasso is newer, and I wonder if the Le Moana gives more award availability.
Either way, you can always book the IC Le Moana Bora Bora and then switch. The downside again would be that you aren't guaranteed an overwater bungalow, nor the switch to the IC Thalasso.
Of course you could do the same thing with the IC Moorea if it's only worth the flight to BOB for the guaranteed OWB.
How to make sure you find award space
Does anyone have the time awards are released? I contacted IHG twice to see if they had any sort of schedule for releasing dates, how far out and what times… but they were adamant that they don't and the hotel manually does it. O_o
There's no great way other than checking consistently at the moment. However, I did reach out to see if Wandr.Me/Hotel-Tools was planning on adding "IHG award alerts" and the answer was "Definitely coming".
@TravelisFree I don't have alerts for IHG yet. Definitely coming, though. Plan is to have alerts for everything Hotel Hustle covers.

— Seth Miller (@WandrMe) December 18, 2014
Alerts would greatly improve your chances of getting all your award nights in a row, or possibly finding availability at all. Not 100% sure when this feature for IHG will be done, but Seth's follow up seemed possible for New Years, but wasn't certain.
Anyways, if that comes about, it could be an incredible tool even if for this hotel alone.
Otherwise I'm going to go ahead and suggest you make IHG.com your home page for the month or so before the trip.
Conclusion
if you're looking for more information on overwater bungalows in general, check out:
Hopefully I'm not the only one waiting for award space for the IC Bora Bora Thalasso to open up, and this is relevant to someone else. However, it's pretty specific to this hotel. Although the Wandr.me alerts could come in handy for Hyatt and SPG.