I'll mention what I believe are the three best airline miles to collect for domestic flights within the US. Each option I'll mention will be priced significantly less than the typical 25,000 miles for a roundtrip you see with most big airlines. While 25,000 miles would be a great price for LA to NYC, what about, ya know, the rest of the country? Who wants to pay 25k to fly New York to Atlanta? Luckily there are many options to pay half that or add 3 extra stopovers to a ticket.
A very short version would be that ANA has better than most prices and allows 4 stopovers, British Airways Avios has short oneworld flights for 4,500 miles, and Southwest has the Companion Pass that could allow a second person to fly for free with you for a year, even when using points. Plus, I'll try to mention a few other options with miles and points.
ANA – 4 stopovers on a domestic flight for 22,000 miles!
I've written a bit about how ANA is changing their award chart in April, and how it will be the best region based miles prices (plus fuel charges). However, I must remind everyone how awesome the program is now. It currently has some of the best award prices period, and they allow 4 stops (3 stopovers plus a destination).
The big change is that they currently price award tickets by distance (and will price by region for awards booked after April 14, 2015). To figure out the price of the ticket, just add up all the flights.
Basically look for Star Alliance routes/availability for the route you want, and route anything you want really, then add up the distance flown. Once you have the total roundtrip distance compare it to the current ANA award chart:
The sweet spot on this award chart in terms of domestic flights are flights that add up to 2,001 to 4,000 flown miles, as these flights would cost you only 22,000 ANA miles. That is a good redemption made great by stopovers.
Here's a route that I personally priced out on ANA's website for 22,000 ANA miles. New York to Denver, to Houston, to DC and back. And technically you can add one more stop!
This is incredible in that it's both less than the normal award price, and how else could you get an extra 3 stops? Of course, United award availability domesticlly isn't exactly known for being abundant, but i could price out this ticket booking months in advance moving my days around a couple of days.
East coast to west coast flights will be a bit more than 4,000 flown miles and go up a big price bracket to a redemption of 38,000 ANA miles. But for the majority of routes for people around the US, Canada, and even the Caribbean, this price point between 2,001 and 4,000 flown miles is incredible.
ANA transfers from American Express and Starwood SPG 1:1.  One of the best uses of American Express points in my opinion.
Avios
One obvious one for people going to or from OneWorld hubs is using British Airways Avios. Avios transfer from Amex and Chase 1:1 and are distance based. But plan your Avios trip out not just by distance but per segment as well. If you do Charlottesville to Chicago and then Chicago to Dallas, that's two different flights you have to figure out the distance for and price. Despite the fact that they are ticketed at the same time, think of each segment as it's own price. For short flights, the fewer the segments the lower the price.
That's a lot of talk to say, there are super cheap flights. We're talking direct domestic flights for 4,500 Avios each way. 4,500, 7,500, and 12,500 Avios are the price points. But obviously the 4,500 and 7,500 price points are what we're looking for.
Luckily, Kenny from Miles4More has done a series on British Airways Sweet Spots where he made a map for all flights within the 4.5k and 7.5k price points in the US.
Be sure to check out his post, though I'll include some snippets here. This may be a lot of photos but here are all the routes for 4,500 Avios by US hub: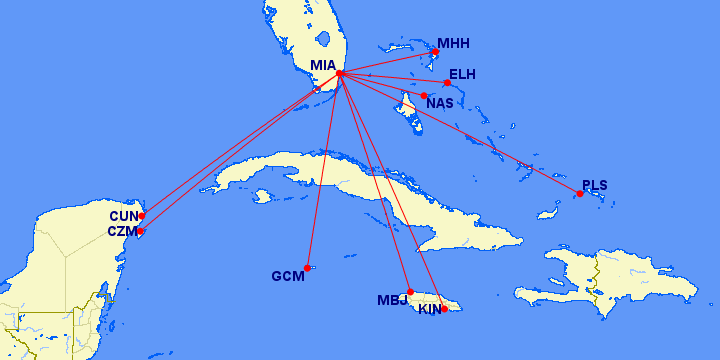 Miami domestic (but doesn't show routes)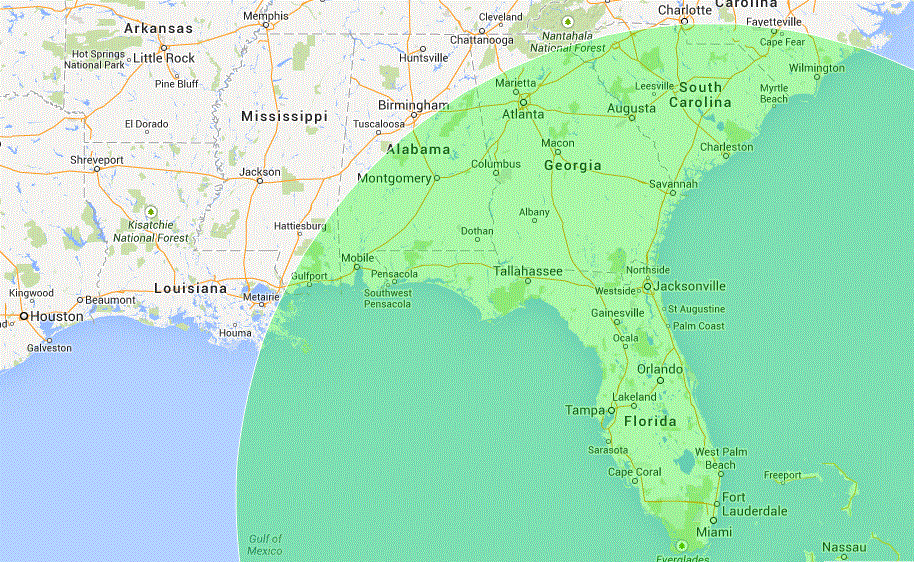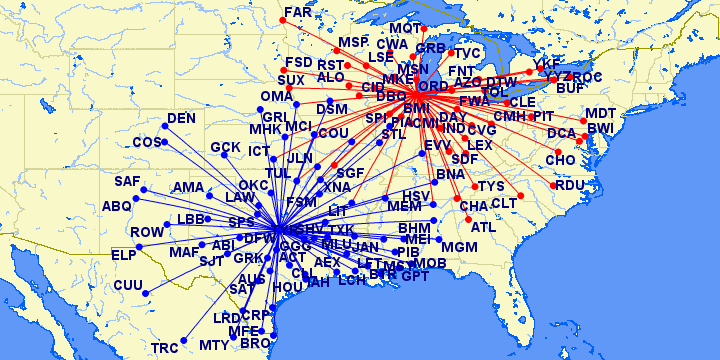 Boston, Charlotte, New York(JFK), Philadelphia, Washington(DCA)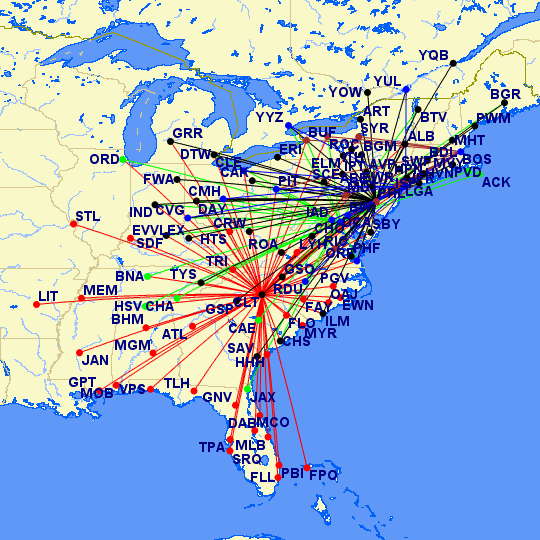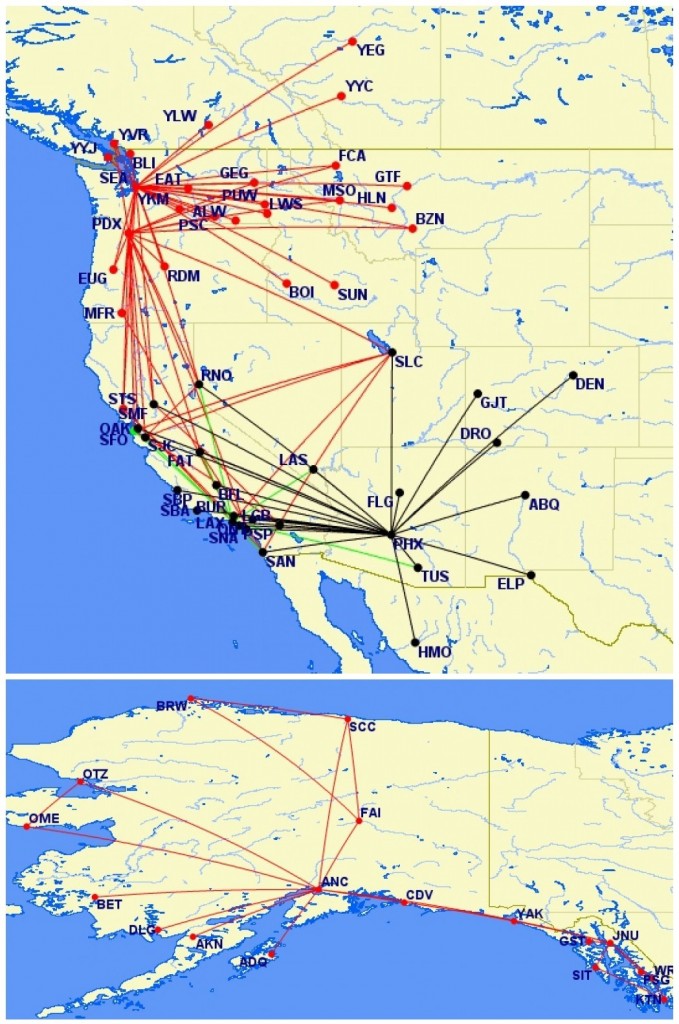 And here are M4M maps for 7,500 miles/avios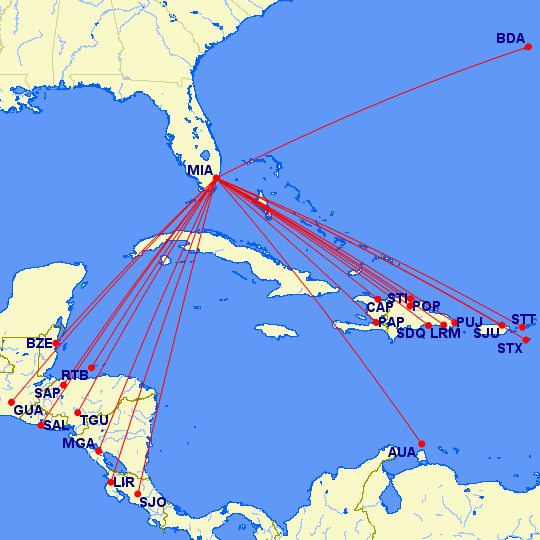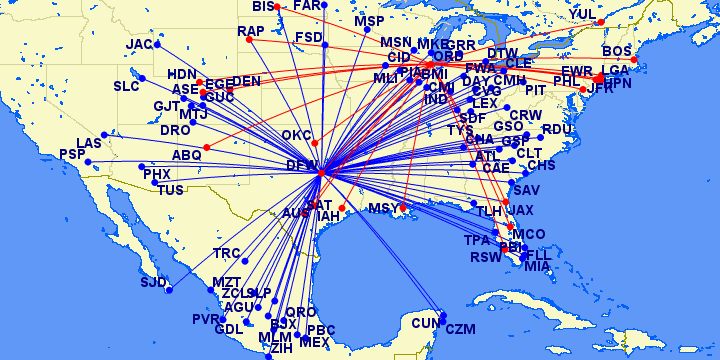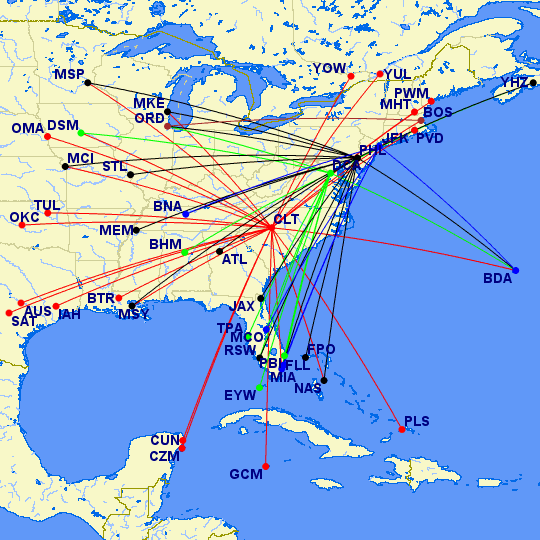 That's a lot of images, but that's a lot flights for 4,500 to 7,500 Avios. Not a lot of miles for a flight. And considering the price of even really short flights like Charlottesville to New York, using miles definitely makes sense. Personally, I find it a great use of Amex MR points, but I'm beginning to be doubtful that the British Airways 100,000 bonus will be back again this year. I've been holding out, but it normally comes by now. Previously twice by now… Oh well, 50,000 is nothing to scoff at.
Southwest
Southwest has had some of the best award prices around, but are limited to the US and a few Caribbean destinations. But, I just booked a flight for 3,500 points. In fact, our flight to Cancun was a little over 3,000 points and due to the Companion Pass that was the price for two of us.
In general, Southwest is awesome. In my post, 5 things you should know about Southwest, I outlined how you can cancel or switch tickets for free, and if the price lowers how to get refunded the difference. This alone makes Southwest way ahead of competitors. Just the ability to hold a seat but be able to change the ticket has come in handy often. In fact, we probably cancel a ticket for every two we book.
The real deal with Southwest is the Companion Pass. Earn 110,000 miles in a calendar year and a companion gets to fly with you on every flight for free. You can even earn the companion pass via the two 50k credit cards. I wrote two posts on this:
– Maximizing the Southwest Companion Pass
– How to Time the Southwest Companion Pass Like a Pro
The second one explains how to apply for the cards in December and get the Companion Pass in January. That way you get to keep it for the full two years (see they let you complete the current calendar year and also keep it for the entire next one).
Amtrak
Speaking of which, if you haven't seen my Amtrak post, do see that. You're going from city to city, and sometimes for only 1,500 points- that's 1:1 from Chase. Normally I'm stubborn to give up Chase points, but 1,500 Chase points is $15. That's a great price for those who can do the many discounted routes, like Michigan to Detroit.
Also, going from downtown to downtown was my logic for using Megabus, because… you really can't beat $1.
Of course, you can book on any airline using the Barclay Arrival Plus. But that's not really a miles and points tip… but if you think about it, if you're lucky enough to find a $50 flight (like Spirit), 5,000 Barclay points is way better than using my 7,500 Chase points. To me at least.
Conclusion
I'll just re-highlight a few key points.
Use ANA miles to do many flights in the US for only 22,000 miles plus four stopovers.
ANA transfers from American Express and Starwood SPG at a 1:1 ratio.
Southwest has awesome award prices, because they are basically the revenue price multiplied by ~60. A $100 flight equals roughly 6,000 points. What's crazy is that I've gotten flights for under 3,000 points… which means they sometimes sell tickets for $50 on oneways
The best option for domestic travel, in my opinion, is the Southwest Companion Pass which can be earned with the two credit cards.
British Airways Avios is distance based, but unlike ANA it's per segment and on oneways. The result is a ton of direct domestic flights for 4,500 and 7,500 miles.
British Airways transfers from Chase and American Express.