I started to combine my annual hotel expenses post with favorite hotels, but realized the list was getting too long, so again made it its own post.
This year, we had quite the range of hotels, from a number of hotels in Africa to overwater bungalows in Bora Bora. From Sydney to Ukraine.
Although, unlike a lot of people my list is pretty much based on experiences not luxury. So below I list hotels that didn't make the top 9 that were actually more luxurious. But when I think about what hotel I recommend I think of the full experience, including the city.
Also just a note- some of these photos are ours and some are not. Unfortunately our photo hard drive fell and broke, so we lost a lot of photos. I'll use our own photos wherever I can.
1) InterContinental Bora Bora Thalasso
We spent two weeks in Bora Bora and Moorea and stayed at the InterContinental Bora Bora Thalasso, InterContinental Bora Bora Le Moana, InterContinental Moorea, Hilton Moorea, and one night at the InterContinental Tahiti.
The most impressive though was the InterContinental Bora Bora Thalasso.
Our room was a modern 1,000+ villa, hanging over the water in the Bora Bora lagoon. Incredible.
From the room we could peak through the coffee table and see sting rays, fish, and once we saw an eel through the coffee table (at the Le Moana). And I should mention that the room, the resort, and the island were all equally dazzaling. Luxury in paradise.
And this joint was over $1,000 a night, but our two weeks were spent using free night certificates. We "earned" these free certificates with the IHG credit cards, and through promotions that gave two free nights after 3 paid stays. We did our cheaper SE Asia or eastern Europe paid stays to earn these free nights for cheap, as we'll talk about in the next post.
2) InterContinental Bora Bora Le Moana
If you want to read about the differences between the two ICs, check out InterContinental Bora Bora vs Thalasso.
3) InterContinental Moorea
While the IC Moorea is not the overwater bungalow experience, Moorea is incredible and it's one of the most unique resorts I've been to. Besides the dolphin and turtle center being on site, the hotel surrounds a little lagoon.
Walking around we actually saw two octopus swimming around the rocks and morphing colors. And again, Moorea is perhaps the most beautiful island I've seen, and it's way more Polynesian. Not the overwater experience, but an experience of it's own.
Although I should also mention that we saw tons of sharks at the Hilton Moorea. Although I didn't like the hotel as much, seeing sharks while snorkeling, and from the overwater restaurant area, was a great experience.
4) Radisson Blu Vienna Suite
Even though we only had gold status at the time (via the credit card), we got upgraded to a great corner suite. And having already been to this hotel and many others in the city on previous trips, the Radisson was my favorite location. In an old bank building, right in heart of the old city.
Although, I just realized this is a repeat from last year.
We paid with 50,000 Club Carlson points / night
5) Hyatt Zilara Rose Hall Suite (all-inclusive)
First of all, the Hyatt in Rose Hall Jamaica is a world class all-inclusive. The food is amazing.
6) Keekorok Lodge, Maasai Mara
This is totally an odd thing to list because it is more rustic and less luxurious of a hotel, until you consider you're on the plains of Maasai Mara, Kenya.
In terms of favorites though, it was extremely high up. A lodge in the plains, without fences! So walking outside to the room I saw deer, monkeys, and even hippos. And one night we could hear the lions roaring.
It is listed as 5 star on Expedia, and I assure you it's not, but probably compared to the tent sites. But the rooms were decent, although wifi was only in the lobby. Although again, it's the experience of having a staff of Maasai tribes people singing, or talk about how they aren't scared of lions, and all that.
A little over $225 a night and it comes with all meals. (We used an Amex buy 2 get 1 free deal via "Preferred Hotel Group.")
7) InterContinental Istanbul (suite)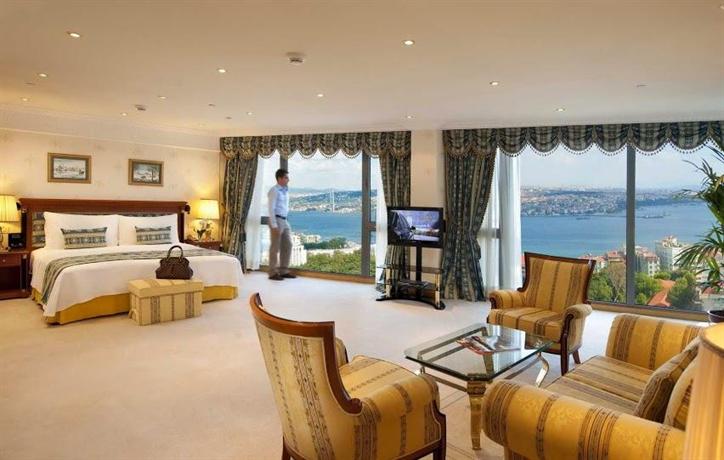 Another impressive lobby, and a hotel made better by them giving us a big suite. And it's a great location in Istanbul as it's on Taksim Square, and seeing as the direct airport buses leave from a block away.
But oddly enough, the most impressive part of the hotel is the gym. The hard wood floors and siding make you think of a luxury hotel, or a spa, but not the gym. And it has fancy relaxing rooms that overlook the river, as does the room with treadmills.
8) Hilton Marsa Alam suite (all-inclusive)
I must be honest and say that I generally hate all-inclusive food, unless it's the Hyatt. And in Egypt it's worse than bad, due to cutting costs in hard times.
That being said, the room was 5 star (best we stayed at in Egypt, and they gave us a modern two room suite. Plus, the snorkeling was the best I saw in Egypt.
We paid with 20,000 Hilton points / night
9) Grand Hyatt Muscat (and InterContinental)
I mention this because Oman is super cool, and all the other hotels in Oman have some weirdness to them. Especially the Park Inn and Radisson.
The lobby is fantastic, and you really feel like you're in the Grand Hyatt Hong Kong, or Grand Hyatt Bangkok.
Although, I should mention the rooms are pretty normal, and nothing dazzling. If the same hotel were in Bangkok, it wouldn't make the list. But I loved Muscat.
Similarly, the InterContinental had older rooms, but was closer to the more scenic cliffs, and had a world class swimming pool on site.
Honorable mentions
(In no order)
Radisson Blu Vendome Cape Town
Radisson Blu Plaza Helsinki
Crowne Plaza Belgrade
Radisson Blu Sofia
Radisson Blu Pera Istanbul
InterContinental Sydney
Radisson Blu Sydney
Hilton Moorea
InterContinental Tahiti
InterContinental Budapest (on previous list)
InterContinental Austin