As you know, I like playing around with programs that aren't as popular as the main few. Like Singapore, Korean, etc…
Well, Virgin Elevate produced a great find, and I'm not sure if it's a mistake. So I didn't want to publicize it at first, but heck, I already have tickets to Europe and I want to make sure my readers do to. Book while it lasts.
Let me get a couple things straight.
1) Virgin America's "Elevate" program is very different than Virgin Altantic. The prices are so freaking cheap, like 15,000 miles (points) roundtrip to Europe but $500+ in fuel surcharges! Although, Virgin Atlantic isn't much better with fuel surcharges but they have worse award prices.
2) Virgin Elevate is a transfer from American Express Membership Rewards 2:1. Yes, it's 2:1 but this year we've seen 30%, 40% and 50% bonuses.
Alternative earnings: You get 500 miles when you create an account and can transfer accounts for $10 per 500 miles… if you're into buying miles. Also, you get 7,500 after your first flight.
Okay, so here's the deal:
Virgin Elevate is not charging fuel surcharges on Singapore Airlines.
And Singapore has a route from New York (JFK) to Frankfurt (FRA), so I priced it out. One way is 10,000 miles and $5.60.
Roundtrips are a better deal than oneways. JFK – FRA:
Oneway Economy = 12,000
Roundtrip Economy = 20,000
Oneway Business = 35,000
Roundtrip Business = 59,000
Oneway First Class = 54,000
Roundtrip First Class = 90,000
These are extremely great prices.
Although to be realistic, double the price to get the Amex MR price. But during a 50% bonus, you'd only add 50%. And 27,000 roundtrip to Europe is still a great deal.
Also, you can take a Virgin America flight to New York to connect. It will add a few miles, but not too much. Or you can use Avios or something.
20,000 points roundtrip to Europe = 27,000 – 40,000 American Express MR points, or = $400 with my risky buy trick.
Two Sweet Things
So the website's calculator will tell you that a oneway is $75 and a roundtrip is $147. Somehow they seem to be taking the FRA airport tax and adding it twice, as well as the JFK tax. No idea, but ignore and trust the agent.
But it's already very odd in the first place, because Singapore's Star Alliance partners charge fuel surcharges, and according to ITA, the fuel surcharges on this ticket should be over $358 alone, before the other taxes that aren't getting added in.
It's hard to believe any of it is intentional. Although they have calculated an exact fare for their calculator and not only is it too low, the actual booking part is even lower. So it's hard say which price is the intended price; the actual ticket's "YQ" surcharge, the calculator price without YQ, or the bookable price without YQ and departure tax.
The other thing is that the First Class flight that is 90k roundtrip is on an AirBus 380. Which means…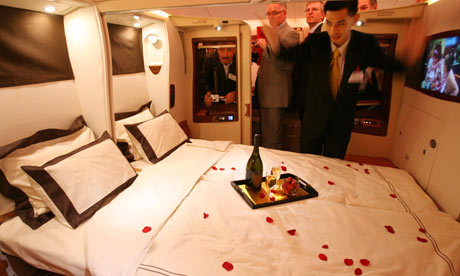 Yes. Singapore's First Class Suites. Suites aren't what gets me up in the morning but I know some of you are a little different.
Anyways…
Conclusion?
Really the only good use if you're transferring from Amex is Economy. Economy would be 27k-40k roundtrip (depending on if there's a bonus) + basic airport taxes. And if you already have Elevate Points, this is the best deal. Although, if you're into premium cabin, it's nice not to have fuel surcharges!
Hopefully I'll have a full post on Virgin Elevate soonish. There are a few really good redemptions. It's hard to beat 20,000 miles to Hawaii… but then again, this post did that, as Europe for 20k is a steal.
Anyone think that despite the 2:1 from Amex, this is a great deal? If there's another 50% bonus, this is a no brainer as long as they don't start adding fuel charges on Singapore. Any other tips on earning?