Many people are slightly baffled by the airline alliance system. But it can be summarized with the word "Codeshare." Have you ever been on a flight that clearly is, for example, an American Airlines flight, but then they say that it's not only AA555 but British Airways 555? How can it be both when the plane clearly says American all down the side? A codeshare means that airlines agree to share a flight.
This concept is made larger by the idea of an Alliance. Look up what airline your alliance is in and what other airlines are in that alliance. American is a part of OneWorld Alliance and so is British Airways, and thus they have a codeshare agreement. This goes outside of the alliances too. Sometimes an airline will partner with more airlines outside the alliance (and recently we've seen alliance partners traded out for other partners), like AA and Etihad. This means that when you fly with one, you can earn miles on the other. (Although sometimes it says "with eligible fares"). It also means that you can redeem your miles on that airline.
Say you have American Airlines miles: you can redeem miles based on zones, as shown in the chart below.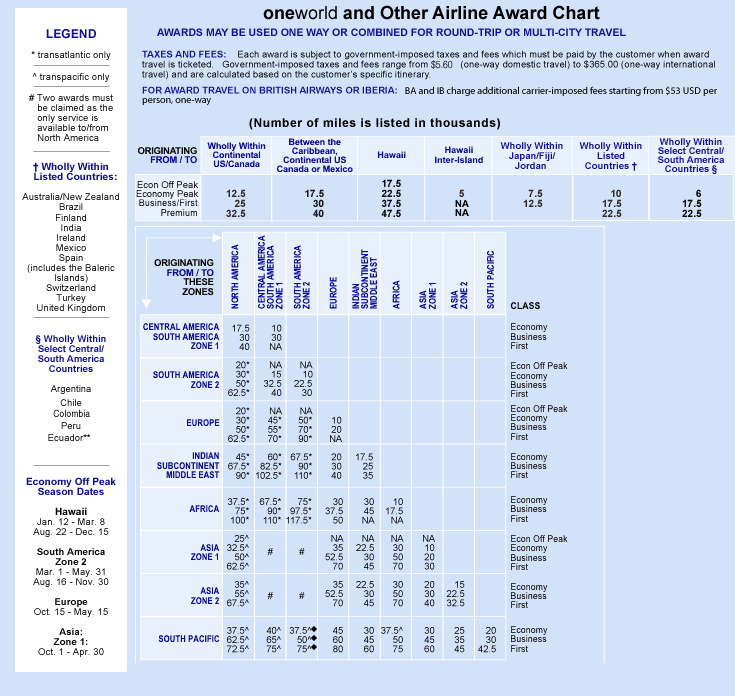 Still, if you choose to fly on a partner flight that has a codeshare with AA, the price in miles is the same. For example if you fly from the USA to Europe right now, it would be 40,000 miles round trip and it wouldn't matter if you fly AA or British Airways.
Two misconceptions:
1) People think that you must now be using AA miles at the price British Airways chooses. Nope, this is AA's partner award chart. It doesn't matter who you fly with, it just matters where you go and you can book over the phone or with some partners (like BA and Qantas) you can book online.
2) People think that you must transfer your miles to British Airways first. No. Just book with American Airlines. Let me put it like this. Because of the whole codeshare thing, that British Airways flight is partially American Airlines' and they'll book you on it without any problems.
Of course, airlines don't release all of their seats to their partner airlines. So stay tuned for a post on how to find award seats on partner airlines. If you have any questions please comment below. Does this help explain anything?