Chase Ultimate Rewards points are absolutely my favorite currency. If you have the Ink Bold, Ink Plus or Chase Sapphire Preferred you can transfer to many great partners and the transfers are instant. This allows you to shop around for the best flight options before transferring and booking. This also means that you need to know your options.
I've written pretty extensively about almost all of the Chase Ultimate Rewards redemption options, or transfer options, but I'll highlight some of the best uses and at times point you in the direction to learn more on the subjects. Learn the deals, shop around for your trip, transfer and then book.
Here are the partners and the basic options I'll be going over:
United
BA
Southwest
Amtrak
Singapore
Hyatt
IHG
Marriott / Ritz
Travel portal (no transfer)
That that all the transfer partners transfer 1:1 in increments of 1,000.
1) United and United Stopovers
The most "value" here is without a doubt in transferring UR points to United. Value = how much money you save, and by far United would get you the most flying. Plus they don't have fuel surcharges.
Just throwing a few redemption options out there:
US to Europe with two destinations for 60,000 miles
US to South Africa to Japan for 70,000 miles.
(Reader Dizzy commented success of booking this trip for 70,000 miles.)
Caribbean Hopper for 35,000 miles
This trip incorporates at least two Caribbean Islands. Reader Johnny commented saying he booked the following ticket for his anniversary: St. Maarten for 4 days, 1 day in Panama City, and 6 day in Puerto Rico.
There are many more amazing trips like our Caribbean Hopper trip that saw Guam and Cooke Islands on the same trip and according to Kayak, I was getting 25 cents per dollar (not that I would have paid $10,000 or paid for business class normally). But the ones I listed are very high value. If you look up comparable tickets on Expedia, we're talking crazy dollars. And these tickets aren't too complicated.
If you'd like to learn more about booking United stopovers, check out these good reads:
2) British Airways
In my Complete Guide to British Airways Avios, I showed how stopovers could actually save miles on certain routes, and showed which tools help you find great routes. Despite the hate for Avios that existed, particularly at the end of 2011, their prices are often competitive for some long hauls, and they are incredibly cheap for certain other flights. Overall, there is a ton of value. Although, it can be a kind of complicated program due to its pricing structure, hence a complete guide.
But one of the best redemptions is short haul flights. And unfortunately Kenny from Miles4More has these great pictures to display some of these routes, that I hope he doesn't mind if I share with you. I say unfortunately, because as a blogger every once in a while you see such a simple display of information that communicates so much. These pictures show all the "sweet spots" of Avios, and I wish I thought of it first. :-p
The most amazing one is for those living in Miami, as you can find inhis post on BA Avios sweet spots from Florida…
Flights that can be had for 4,500 BA Avios/miles: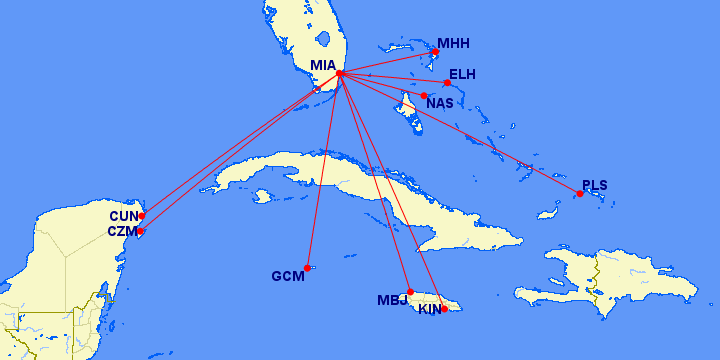 We're looking at 4,500 miles each way for flights from Miami to:
Cancun, Mexico
Cozumel, Mexico
Grand Cayman
Montego Bay, Jamaica
Kingston, Jamaica
Turks and Caicos
Nassau, Bahamas
Eleuthera, Bahamas
Marsh Harbour, Bahamas
Continue with flights for 7,500 miles: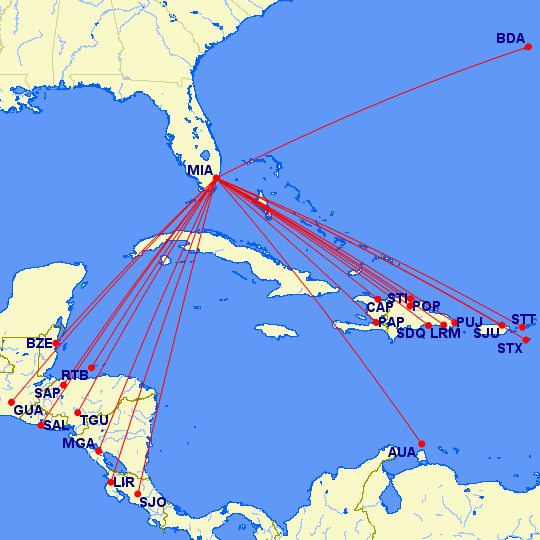 In BA sweet spots from Dallas, there are still a number of flights reaching the Caribbean for 7,500 miles: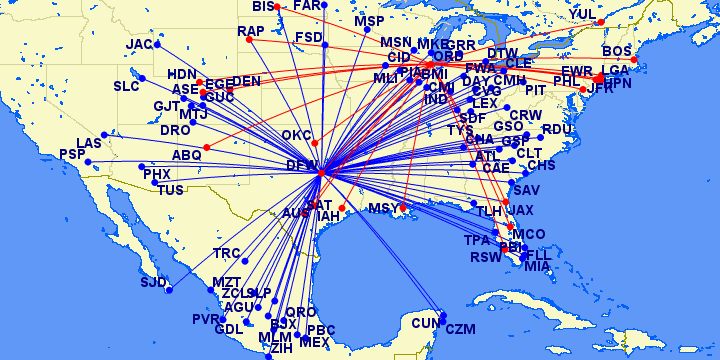 And BA Avios sweet spots from the east cost, flights for 4,500 miles: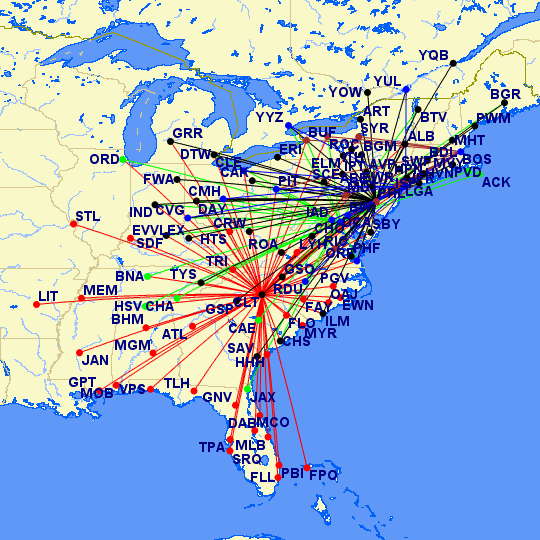 And more for 7,500 miles: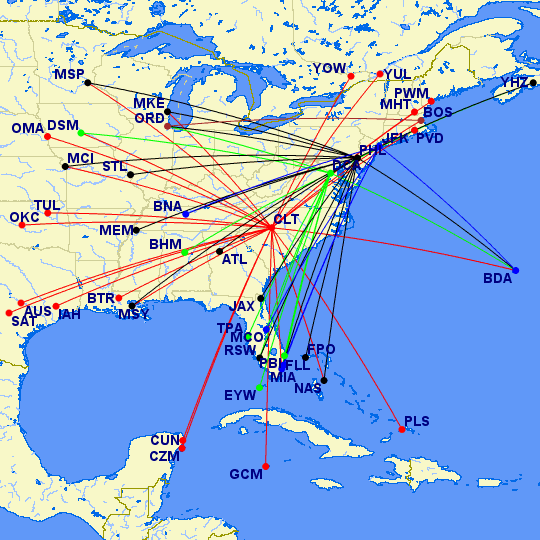 The list goes on and on as these are only AA and US Air flights, and not even all of them. You can do this for every airline in the OneWorld airline!
More killer examples would include:
12,500 miles for Boston to Dublin oneway
West coast to Hawaii for 12,500 miles oneway
Miami to Lima for 12,500 miles oneway
and on and on, and on…
The thing that makes British Airways Avios extra tricky is not only their pricing per segment, but the fact that they add on fuel surcharges. For that reason, really do read the Complete Guide to British Airways Avios! It will go over which airlines to redeem on to avoid fuel surcharges.
Would I transfer from Chase UR points?
Sure, I would. However, BA is also a transfer partner of Amex Membership Rewards points too, which are slightly less valuable to me. So I might as well transfer from there first, if I have the option.
3) Southwest
Understand that transfers from Chase Ultimate Rewards do not count toward the Southwest Companion Pass, which is an amazing benefit. It's such a huge benefit that can be had via the regular Southwest cards, that I would really choose to earn miles there via those cards. I'd rather have the companion pass, which allows one person to fly with you for free on any ticket paid for with points or cash, up to two years!
Read more about the Southwest Companion Pass and how to maximize it. It will also go over how to find cheap flights.
Still, there may be many times where you can find a flight cheaper on Southwest than any other points programs. We've gotten flights from Houston to Little Rock and Columbus, Ohio for about 4,000 points. And when looking at tickets to Cancun I noticed flights out of Atlanta for 5,000 points. This would totally be worthy of a transfer.
4) Hotels: IHG, Hyatt, Marriott
Hyatt is actually one of the better transfers for hotels because they have the lowest award chart. Free nights with Hyatt range from 5,000 points to 30,000 points. Free nights with Marriott range from 7,500 points to 70,000 points. And free nights with IHG range from 10,000 points to 50,000 points.
The best value here is most likely going to be Hyatt, and recently when we were in Albuquerque, NM with Carrie's family, we saw that the Hyatt Regency was 5,000 points a night, so we booked 3 rooms for all of us. 5,000 points for a hotel that was going for $130+ a night.
And with IHG, on the same trip out west the family was driving through Kansas and we got everyone a room again for only 5,000 points. This is because of a sale, IHG's PointBreaks. It's an awesome sale that we have really gone in big with in the last years.
5) Singapore?
While most Singapore flights are going to come with high fuel surcharges, there are a few partner redemptions that are pretty awesome.
I'll go ahead and quote some of the best uses from my recent post, Best Use of Singapore Airlines miles. Here are some flights cheaper than AA miles:
Business & First within the USA  (for 20k/30k)

Economy, Business & First to Hawaii  (for 17.5k/30k/40k)
and
You can do different Pacific flights from Australia without fuel surcharges (or with very mild ones with Virgin) for stupid cheap. Like 12.5k/17.5k for econ/biz for a flight from anywhere in Australia to any Pacific island, including Tahiti.
Probably not my go to program, but it does have some winning options.
6) Amtrak
I'm not an expert on Amtrak but my friend Dave is an evangelist, partly because of it's awesome as a family, and he recently converted my wife.
Amtrak splits the map into regions and prices that way. Now there are a number of direct routes between major cities that aren't too far away from each other that are like 1,000 points. Great deals. But the regular prices within one region are a steal.
For example Denver and Seattle could be in the same region, and thus the prices for a single region award are:
5,000 for a seat
15,000 for a roomete (for 2 people)
25,000 for a room (for up to 3 people)
The room and roomete not only allow 2 people, they provide meals. The beds in the room would make it tight for 3 people to seat, but it is plenty of seating room and would provide 3 meals.
It's a slippery slop because I would totally pay 15,000 for a roomete instead of 2 regular seats for 10,000 (for the two of us). However, Dave says that if you see the room and you see how much more the 10,000 points gets you, it's no contest and you'd totally go with the room.
Also, Amtrak prices like airlines (in regions) but doesn't limit award availability. If it's for sale, it's available for points.
It seem to me Amtrak is about vacation because it is not the quickest way to get anywhere long distance. But if you have kids, apparently it's easier.
7) The big DONT'S
I've written before about why not to use Chase's travel booking. But it's pretty simple, it gives less value and the prices are screwed up.
So first, the value is bad. 70,000 points via United miles could get you a flight to Africa and Japan for as long as you want. Or it could get you $700 in the travel portal. The ticket with United miles could be worth $2,000 and you're not going to get a ticket for $700 to South Africa alone, or anything close to that.
And second, the portal doesn't have all flights so it's not going to show you the cheapest flight you'd see on Kayak.
Just this week I looked at car rentals for Costa Rica, and it quoted me $30+ or 3,000 points. The annoying thing is that the same companies and the same cars were $9 on Kayak. What the heck?
You're not actually even getting a 1 cent value. Of course there are exceptions, and I still checked. But in my post on the subject, I showed example after random example of how the prices were inflated.
Also, I don't transfer to Korean because the fuel surcharges would be astronomical and the prices are too high. Use the other partners.
Conclusion
Just between British Airways and United, you can take care of a lot of flights. United is Star Alliance and British Airways is OneWorld. United is great at long hauls with many stops and BA is great at short direct flights. And there are so many deals within those two groups that are incredible, and I believe I've named quite a few.
United is not so much great at First Class prices, but I don't need First Class and the stopover rules are so lax that it should make up for it.
My basic recommendation is transfer to United or British Airways, but there are other deals to be aware of.