Two business class seats on the same airline can vary greatly in quality. One could be a giant suite, and the other could be a glorified economy.
Yet, the price in miles will almost always be exactly the same.
Plus, seats in the same class on different airlines can obviously vary greatly as well.
So how do you find the good ones? That's what this post is about. If you're going to spend the extra miles on business class or first, you might as well get something sweet… like the suite above. Again, it's the same price, but huge variants.
For example, I've flown Thai's old business class in the 747, and it was so "angled" I did more sliding out of the seat than sleeping. Similarly, we flew AA's old business class, where I also didn't sleep much due to the seat being too similar to sitting straight up. Why fly business class at that point?
Yet, both have great business class seats on other planes. In fact, some argue that AA's newer business class is one of the nicest business class seats. It's a suite. Who needs first class at that point?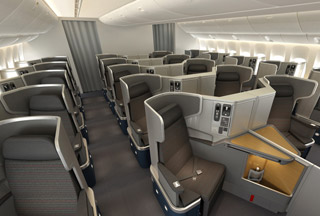 Now, let's talk about how to figure out which plane or flight has the better first class…
Compare Seating Chart to SeatGuru
SeatGuru.com is going to show you the specs (and sometimes user submitted photos) of seats. It's basically the TripAdvisor of planes.
This shows that American Airlines has "flat bed seats" and herringbone seats on their 787 planes.
It also shows us that American still has a 777-200 (v1) that has the old "angle-flat seats", and instead of having four seats across it has 7 (2-3-2). Red flag!
I can't imagine a situation where anyone would prefer the smaller, angled, older seats given that they would cost the same amount of miles with any program. (Although, understand that nicer plane seats might have worse award availability).
In this case, if you see that the plane type is a 787, you know you're getting the new AA business class. Plane type is normally shown readily, with flight times and flight number.
Even the same plane type can have drastically different seats.
As I mentioned, AA still has a 772 with the old business class, but they also have some 772 planes with the new business class. How do you know which 772 is the flight you found, the new or the old?
In this case, it's not enough to know the plane type, but you need to cross compare seating charts.
1) For the flight you found, you need to find the seating chart.
For example, on AA you can click "View Available Seats" while browsing award availability. Or, on United.com, you can click "seats" to show award seats.
However, the big problem is that most partners won't have the ability to choose seats or see the seating chart.
But the good news is that you've found which specific flight has award availability.
2) You can go specifically to that airline's website and search for cash seats available, if need be.
The fact that you're using miles is irrelevant… The point here is that there is award availability on a specific flight number, but we just want to know what kind of seats they have on the plane.
If you can see what seats are available on that specific date and flight number, then we can move on to the next step.
3) Compare the seating chart with SeatGuru.com
Usually it's pretty obvious which seat you'll have once you compare the seating charts.
An obvious clue is if one has 7 seats across, and another 4…
Or it could be that business class on one plane starts in row 10 instead of row 5.
Example:
I looked at DFW-NRT on British Airways and found business class on their 787. But SeatGuru says that 1 or the 3 JAL 787s has the old angled business seats… a booking mistake I'd hate to make.
So I went over to www.ar.jal.com/arl/en/ and searched for DFW to Tokyo, and then on the list of flights I found the flight I found on BA – JL "11" leaving at 11:15. Then selected business class and then "continue".
The next screen had the option to "Select seat".
I found that there were 9 rows, with two biz seats scattered to be in row 10. Exactly like the "suites" and fortunately NOT the "angled" seats.
You can learn a lot just from SeatGuru:
You never want anything "Angled", like "Angled lie-flat" is an oxymoron and certainly aren't flat as in parallel to the ground.
Nor do you want "recline". You just want lie-flat.
Fewer seats across is better. There perhaps are obvious privacy implications if the seating chart is 1-2-1 vs a 2-3-2 in terms of number of seats across.

Personally, since we always fly as a couple we prefer two seats together instead of a single seat by the window, and therefore don't mind many 2-2-2 seats.

You can see if it's a herringbone pattern (where all the seats are diagonal one direction or the other). These are often just better seats in general.
If applicable, it will tell you if there are suites, which is the nicest (and rarest) business class option.
In general, you'll find newer planes (like a 787 instead of a 747) will have newer seats.
Search OneMileAtATime
If you're not familiar, Ben – of the blog OneMileAtATime – has probably flown and reviewed more flights and plane seats than anyone.
I'm just site searching OMAAT for [Airline] Business Class [Plane].
For example, I was trying to find what business class we should take back from India with AA miles: Qatar or Etihad.
Unbelievably, Ben had a post on Etihad vs Qatar Business Class where he ranks and orders the business class experience by each plane.
He ranked the Etihad a380 and 777 above the Qatar 777 (my other option), and I therefore went with Etihad.
(Post idea for Ben, a comprehensive ordered list of all business class products. So I could look at a list and see AA 787 biz is above Cathay biz… or whatever).
So if I have a few options for business class, say AA, JAL and Cathay… I'll look at the award availability, find the seat, and try to find a OMAAT review for that seat.
Conclusion
In short, I look for lie flat seats. But to find what seat you're on, you need to see what plane the flight you found is, and perhaps the seating chart, just to find out what type of business class (or first class) seats they use.
If I have multiple options, I'll check out reviews on OMAAT and see if there is a major difference in the seat.
Related Posts: